Chains That Liberate: Governance of Family Firms
| | |
| --- | --- |
| Author | Rajesh Jain |
| ISBN | 9781403928696 |
| Imprint | Macmillan Publishers India |
| Copyright | 2005 |
| Trim Size | 5.5''x8.5'' |
| Binding | Hardback |
| List Price | Rs. 295.00 |
| Language | English |
Governance is considered the most important factor for the survival of a family firm. Although governance is about discipline and accountability and is often uncomfortable, it is the only way to long-term survival. This book discusses in detail the benefits of governance of family firms in an exhaustive manner. It is written keeping in mind the Indian business scenario. Each family business is unique in its size, composition, nature of business and industry, stage of growth, number and nature of generations involved, degree of professionalism, etc. There cannot be a 'one-size-fit-all' solution for all situations. Yet, this book covers ideas that are highly effective in most of the situations and can be easily applied with minor modifications. Chains That Liberate is useful for business owners, management consultants, senior executives, academicians, students, business analysts, bankers and financial institutions and anybody who is interested in the field of family business.
Content
Preface
Acknowledgements
Introduction
Family Businesses: What They Are?
Survival of Family Firms
Understanding the Complexity
Governance of Family Businesses
Governance Structures, Processes and Tools
Family Governance
Ownership Governance
Business Governance
Family Business Leadership
The Board of Directors
Conclusion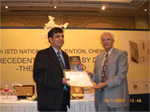 BEST MANAGEMENT BOOK AWARD 2005-06
At a function held at Taj Coromondel, Chennai, Indian Society of Training & Development (ISTD), the premier association of Management Trainers, HR professionals & Consultants in India having more than 45 branches, awarded the book the first prize for the best management book for the year 2005-2006 for making outstanding contribution to the understanding of management principles and practices in India. While there are books on family business history or on business leaders, this is the first Indian book that provides practical solutions to the issues growing Indian family businesses are facing.

THOUGH economic status persists, as Unequal Chancesargues, there seems to be high attrition in family businesses. Rajesh Jain writes in Chains that Liberate, from Macmillan (www.macmillanindia.com) that less than 10 per cent of these inherited firms last beyond the third generation. Globally, 80-90 per cent of all businesses are family-owned businesses (FOBs), and they contribute 60-70 per cent of GDP.
"Given the complexity and paradox of family business environment, how is that some firms manage to survive beyond centuries?" asks Jain, and answers that their secrets are awareness, adaptability, and intimacy. "Family businesses are under threat from both the sides, family as well as business," writes Jain, matter-of-factly. Haven't we seen that happening more than once?
A chapter on 'understanding the complexity' informs how, in the joint family system, women members wield much influence. "They cannot handle the situation of unequal rewards to their spouses due to another level of competition prevailing amongst them."
Towards the end of the book is a valuable compilation of 22 'best practices' for FOBs. "Establish mechanism to provoke the firm out of comfort zone," reads the first. Other valuable tips speak about the need for independent directors, separation of the role of chairman from that of the CEO, regular family council meetings for continuity of the practice, documenting policies, evaluation process for entry and promotion, allowing youngsters to work for a few years outside the family business, developing a succession plan, and never telling the youngsters 'It's all yours'.
Let your family be a source of strength, not of weakness, exhorts Jain. "Manage the family as keenly as you manage your business."
Suggested 'family' reading for the weekend!